Midtronics MCC-070 Controlled Charger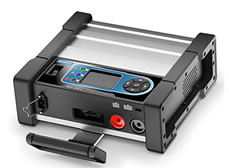 The new Midtronics MCC-070 Controlled Charger is designed to be an economical, easy-to-use charging solution with easy-to-integrate wireless capabilities. The MCC-070 offers safe controlled charging to quickly service different battery types (regular lead-acid, AGM, EFB, Li-ion).
The MCC charging platform integrates seamlessly with other compatible Midtronics battery service equipment and the cloud-based Midtronics Battery Management Information System (BMIS) via the MX Gateway to support advanced battery management solutions.
MCC-070 Controlled Charger Features
Wireless Communication & Network Capability
App-Based Charging
Special Algorithms with Switch-Mode Power
Enhanced User Experience
Process-driven applications help users obtain accurate & consistent results
MCC-070 Controlled Charger Technical Specification
Application: For Automotive, ISS, Marine, Lithium ion 12V batteries with network printer and BMIS Enabled system
Input Voltage: 100 – 240VAC, 50-60Hz, 13A max
Output: 15VDC max., 70A max
Wi-Fi Connectivity: 802.11 b/g/n 2.4GHz Security – WEP, WPA, WPA-2 Enterprise
USB 2.0 connection
CAN bus interface
Dimension: Height:4.80" Width: 13.1" Length:12.0"
Weight: 5Kg